Memorial Events
Every year on November 8th, the anniversary of the synagogue's destruction, we hold a memorial service to reflect on the displacement, deportation, and murder of Jews from Roth, Fronhausen, and Lohra. The service takes place in the synagogue. Each year the service is dedicated to a specific person or event, or the service focuses on another specific topic.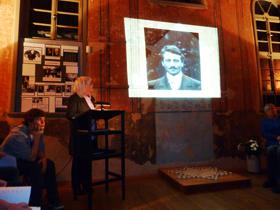 Zentrale Bedeutung für das Gedenken besitzt der von Gabriele C. Schmitt zur Eröffnung der Synagoge geschaffene Gedenkstern in Gestalt eines zerbrochenen Davidsterns. Dieser trägt die Namen aller Ermordeten aus den Dörfern Roth, Fronhausen und Lohra. Der Menschen, die kein Grab besitzen, wird an dem einstigen Mittelpunkt ihres Gemeindelebens auf diese Weise namentlich gedacht. (untranslated!)
Students from the comprehensive school in Niederwalgern are involved in this event, usually by reading the names of those murdered and by lighting candles for each of the victims, whose names are written on the memorial star.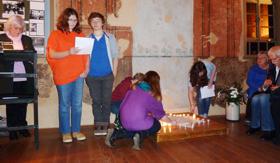 Amnon Orbach, the head of the Jewish Community in Marburg, leads the ceremony with an El male Rahamim prayer for the victims of the Holocaust and with the Kaddish, a hymn of praises to God.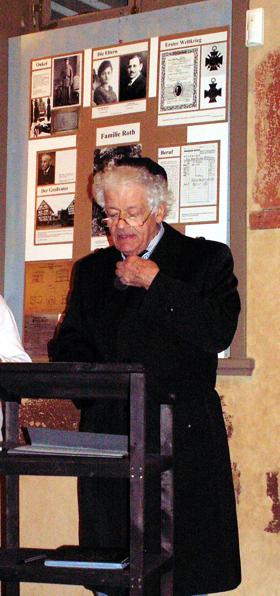 Every five years we hold services at the train stations in Fronhausen and Niedwalgern to reflect on the deportations to Riga in 1941, and to Sobibor and Theresienstadt in 1942. Young people and representatives from both the village administration and the village churches are involved in these services.